In this post, I explain the journey to achieve a large canvas painting in the studio. Today, see the different steps to achieve the final painting of "Krishna and Balaram take the cows to the pasture".
---
• Gods and Godesses • Krishna Art • Kurukshetra • Partha Sarathi • Sacred Art of India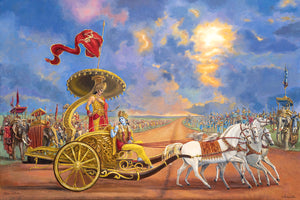 In this post, I will show you how I created a large painting of Partha Sarathi (Krishna and Arjuna on the Battlefield) from beginning to end.